FAMILY ARCHERY DAY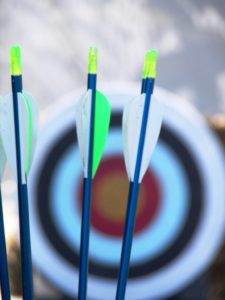 THIS EVENT IS CANCELLED.
Saturday, August 18:  830 am to 5pm

Includes:
Breakfast, Lunch and Dinner
Archery Instruction
Workshops on shooting form, safety, equipment and hunting
Afternoon 3-D tournament at Panther Creek Bowhunters Club
Door prizes and tournament winner prizes awarded after dinner
$20/person ($80 family max)
This event is set up to have youth accompanied by at least one of their adults.  It is a family event, not for a youth to register individually.  
We do have limited equipment on hand for youth and beginners.
Tentative Schedule:
8:30  Check In / Breakfast / Bow Inspection IN LSCA DINING ROOM
8:45  Welcome and Explanation of Day
9:00  1st Open shoot with Instruction as necessary
10:00  Instructional Seminars or Archery Tag
10:40  Instructional Seminars or Archery Tag
11:20  2nd Open Shoot with Instruction as necessary
Noon Grab Lunch in Dining Room
Until 2pm:  Free Time to enjoy – fishing, swimming, lawn games, canoes or kayaks or paddle boards, disc golf or tubing
2:10   3D shooting for everyone
2:45  Head to PCBH Club (caravan over)
3:05  Course Instructions
3:15  8-10 target Shoot off
4:30  Cookout and shoot off winner and door prizes
5:30  Good Bye